KIC Reports
Instead of just having to guess, we are here to assist you in understanding specific information, such as the capital market investor risk appetite, and/or capital market trends projection.
Katadata Market Sentiment Index helps you in predicting the market's condition, in monthly basis. We simplify the process in identifying the market probabilistic in Indonesia Stock Market (IDX) Composite. Our team has developed a logistic model to weighs the entire stock market and track market's changes, whether the projection will be bearish, or even bullish?
Katadata Investor Confidence Index to help you in measuring the key trends underlying in Indonesia investment market. We conducted a quarterly survey to capture the sentiment, behavior, and projection from institutional investor.
Indeks KELOLA is a collaboration between Katadata Insight Center and Jari Ungu in the selection of 66 Regions/Districts that have successfully managed its assigned regional local budget (APBD) in an effective manner.
Sign up
KIC Perspectives
KIC Perspectives provide you insights to help you in interpreting the way things stand nowadays to public.
View perspectives
D-Insights
From monitoring daily update and trends to recognizing industry direction,our premium content subscription service is here to maintain your competitive edge.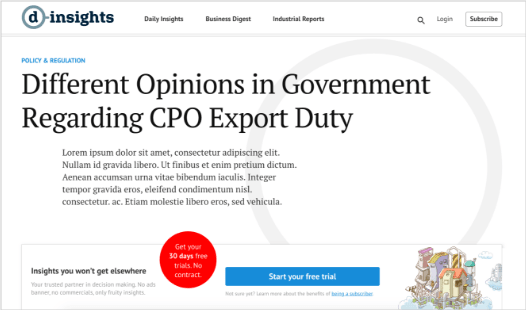 Services
We also understand that you need to manage your risks from the regulatory and or economic impact, or analyzing on what your competitorsare doing. Led by our industry-leading expert panel, we strive to provide in-depth analysis with special emphasis, in order to deliver a fully customized insight specially for you.
Analysis & Advisory
Data Insights
Discovering insights from data to improve your business development strategy or minimizing your risks.
PEST Analysis
Assessment on Political, Economy, Social, and Technology in Indonesia, tailored to suit your needs.
Industry Analysis
The latest industrial analysis to keep you updated in this competitive business environment.
Risk Analysis
Let us scrutinize your next potential threats. You know what to do next.
Stakeholder Mapping & Analysis
Identification, Level of Interest, and Impact.
Market Analysis
Defining the precise entry of your business expansion to the right market at the right time.
Communication Strategy
Data Publication
Motion & Infographics
Articles
Events

Contact our team